Born February 21, 2014. Nika's story is different from the others as she came to us at age two instead of a young pup. She is Zoey's sister. Same mother and father but a litter apart. We took Nika in as a favor to watch and care for her for two weeks until a permanent home could be found. Little did we know she would steal our hearts right away and two weeks became forever. She fit nicely into our pack and low and behold we had what we referred to as "the girls." Since Zoey decided to take a different career path we decided to see if Nika had the drive to be our next working K9. We started her out in obedience, advanced obedience then she received her Canine Good Citizen title and then her Urban Canine Good Citizen title. We introduced her to cadaver and a year later she was certified with North American Police Work Dog Association and then a few months after certified with International Police Work Dog Association. She is currently an active human remains detection K9 and gets deployed by her team and local law enforcement. When she isn't searching she also enjoys dock diving with her sister, Zoey. Nika is one of the sweetest, friendliest and affectionate pups you ever will meet. I guess that's why we were so quick to fall in love with her. But, don't let her fool you, she is still a sneaky Niky!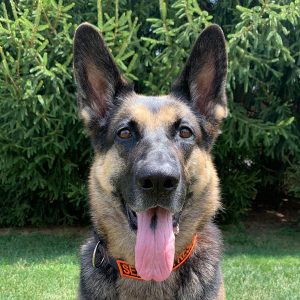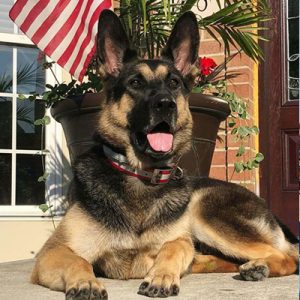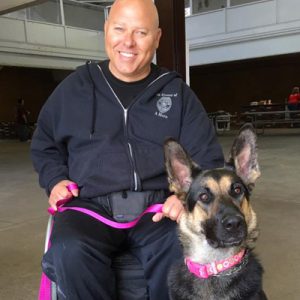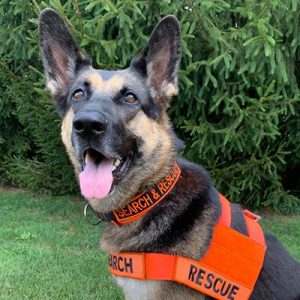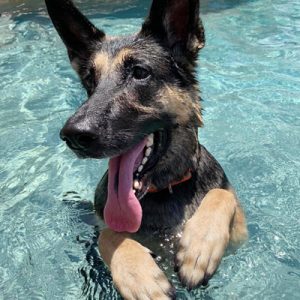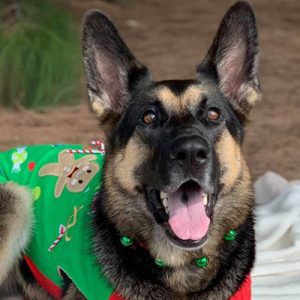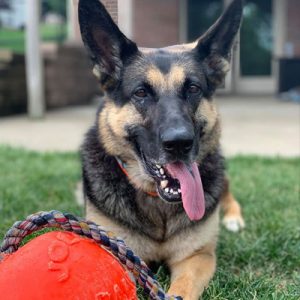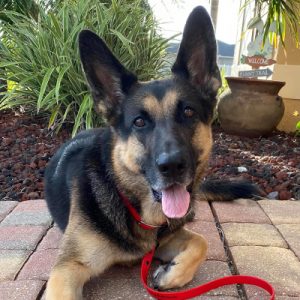 Born on June 28, 2013. Zoey started her training young. Obedience, advanced obedience and Canine Good Citizen Title. Originally the plan was to have Zoey fill in for Ziena after she retired but Zoey had other plans. Zoey will work as a human remains detection dog but that is not her passion. Zoey loves being in the water and jumping off the dock. She trained in big air~distance, speed retrieve~speed and extreme vertical~height. Her first full year on the dock she earned an invitation to the World Championship. She did the same the following year earning another invitation. Zoey still competes on the dock and is loving life. Zoey is a character and definitely beats to her own drum. She keeps us laughing with her monkey noises and her quirky ways. She is one happy pup.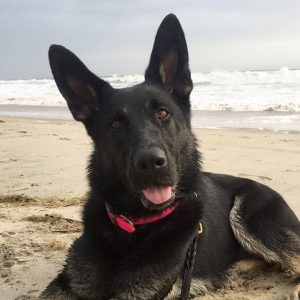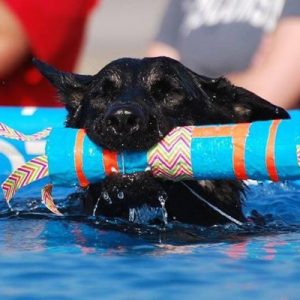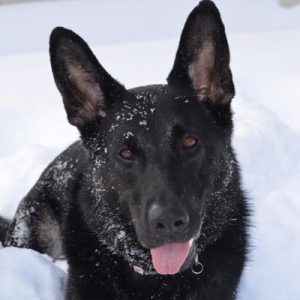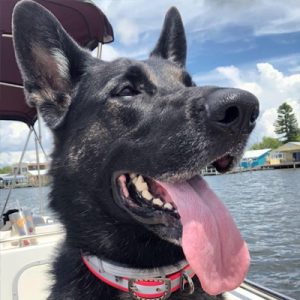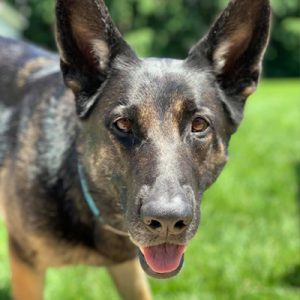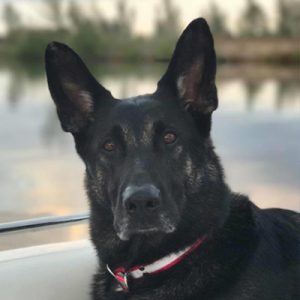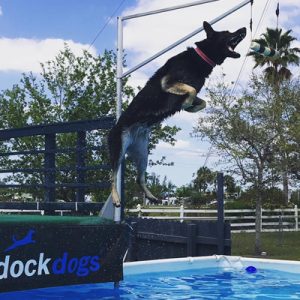 Born October 6, 2006. Ziena started her career early on. Attending obedience and advanced obedience classes with Master Trainer, Pat Moloney. Obtaining her Canine Good Citizen Title, attending agility training and performing in the ring for both agility and Rally through AKC. Shortly thereafter, she started training to become a Therapy Dog through Therapy Dogs United. She progressed to K9 Search & Rescue where she trained weekly, sometime several times a week with a Master Trainer, Trainers and local Police Officers. Soon she would be certified as a dual-purpose K9 through the International Police Work Dog Association, North American Police Work Dog Association and Pennsylvania Police Work Dog Association. Over the years she would be re-certified through these organizations for Air Scent and Human Remains Detection.
Ziena was featured in several magazines and newspaper articles about her achievements as a working K9. She, along with her brother Zar, visited nursing homes and schools to bring comfort to those that needed it. She also spent time in the hospital with Jim throughout his recovery. Ziena and Zar were both featured in the movie Heroes Behind the Badge – Sacrifice and Survival.
Unfortunately, Ziena's career was cut short and she was forced to retire after being injured on a training exercise that left her with a titanium knee. Retirement didn't stop her though, she briefly did some dock diving to pass time. If it were up to her she would have worked until the day she died. In 2018 Ziena was diagnosed with Lymphoma and fought harder than most to stay on this earth given all the obstacles she faced. She, too, was a fighter like her human dad. Ziena passed away on January 17, 2020. She will always live in our hearts as "Ziena, the Warrior Princess"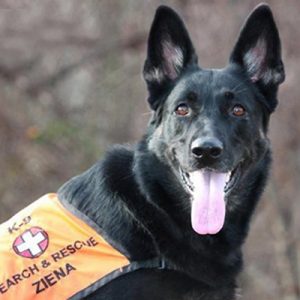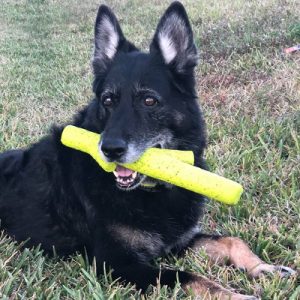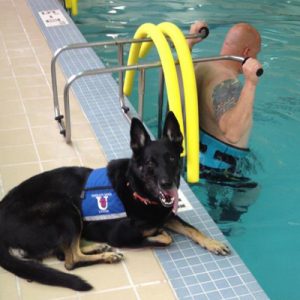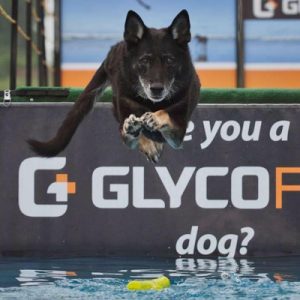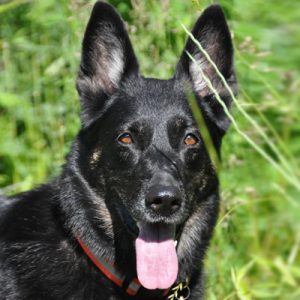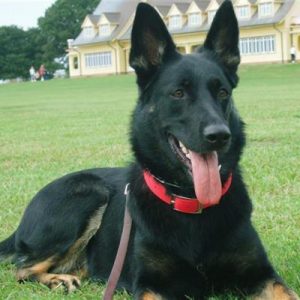 Born on May 2, 2004. At just four months old Zar began obedience classes with Master Trainer, Pat Moloney. He then progressed to advanced obedience and obtained his Canine Good Citizen title. Soon after Zar would start training to become a Therapy Dog through Therapy Dogs United. After passing his certification, Zar went on to visi many nursing homes and schools throughout his career. Never could we imagine that Zar would become a Therapy Dog for his own human. Zar spent many days in the hospital with Jim as he recovered. He also visited with some of the other patients on the spinal cord floor helping them in their recovery as well.
Zar also trained in K9 Search & Rescue and loved being in the field searching for his victim, he was also a nominee for the 2012 American Kennel Club's Ace Awards.
Unfortunately, Zar was diagnosed in 2012 with Degenerative Myopathy and soon would be in a wheelchair like his human dad. But that wouldn't stop him from having fun or vacationing with his family. After a courageous battle, Zar succumbed to the disease on February 7, 2015. He will be in our hearts forever.